DELICIOUS:
I started off my morning with some coffee from the "Alchemist Coffee Project."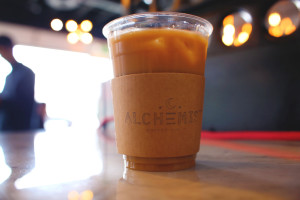 EYES ONLY: 
The statue of Salvadorian archbishop, Messenger Oscar Romero, which was completed in November of 2013. This is just one of many works of art that adorns the park.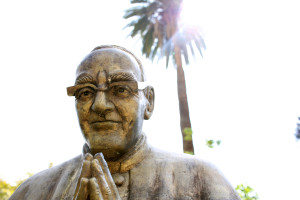 LOOK UP:
Here, I found an interesting composition of two towering objects. Palm trees and street lights like this one are found throughout the rest of the park.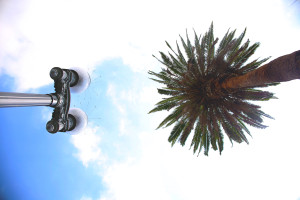 RED:
Many homeless people find refuge in MacArthur Park's surrounding area. This shopping cart once belonged to an inhabitant of the park but has since been abandoned.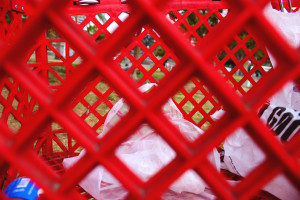 ANT POV:
A loaf of bread rests on the cold concrete next to the lake. Around the park, there were tons of animals preying for food.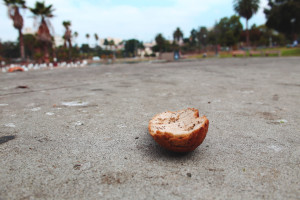 HANDS: 
Minerva, 57, weaves a handkerchief along a sidewalk teeming with street vendors, which many business owners say is a growing cause for concern.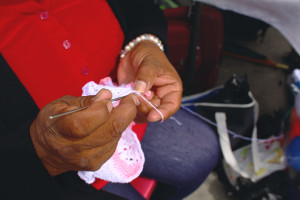 WTF:
This was one of those restaurants I feel like you would see on the internet. Do you want Yogurt Smoothies? What about Chinese food? Fortunately here, you can get both.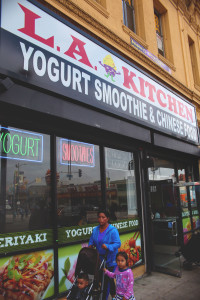 SELF REFLECTION:
The water in MacArthur Park's lake is murky beyond belief, so much so that it reflects images more than it does let light through it.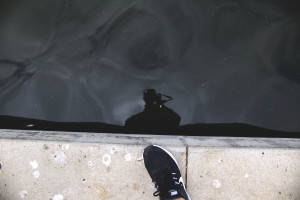 ACTION SHOT:
Gabriel, 31, sweeps the lake floor for trash and other items that are making the water dirty. The city's trash collectors swarm the area everyday around 2pm.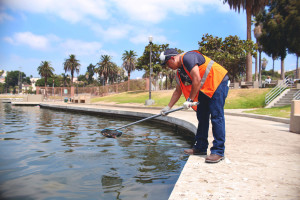 ANIMATED GIF:
While walking in MacArthur Park, I noticed that none of the water fountains worked.