I did my digital footprint assignment on Sophie Flay. I found accounts and content for Sophie on most of the traditional social media sites such as Facebook, Twitter, Instagram, LinkedIn, YouTube and Flickr. Her name is prominent on both Google and other search engines.
When I initially looked up her name on Google, I found a number of articles, photos and YouTube videos with her father Bobby Flay, the celebrity chef on the Food Network. The articles were from tabloid type sites and in list format. One of the articles is called "11 things to know about Bobby Flay's daughter" and it delves into Sophie's personal life. The photos were with her dad at different events such as a Hollywood Walk of Fame proceeding where her dad was being honored. You can also find photos of that event on Flickr. On YouTube, I found videos where she is seen cooking with her dad on his show, but also her work for Annenberg's The Buzz and her singing for USC's a cappella group The Sirens.

While Sophie appears to lead a public life, her personal social media accounts are more private. The only reason I found Sophie on Facebook is because we have mutual friends. Her name on Facebook is under a pseudonym Sophie Catherine. On it she shares photos about her sorority, friends, family and anything on social media she finds interesting or comedic. Additionally, on Instagram, Sophie shares photos with friends and family.  Everything she makes public is appropriate and therefore she wouldn't have anything to worry about with employers.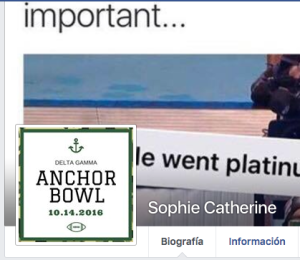 Sophie's presence on Twitter is more subdued. She recently joined Twitter in August and has been posting about the presidential debates. One of her posts is a soundbite of Hillary Clinton that she retweeted. If you search her name on Twitter, however, you are also able to find tweets of the work she has done with her father on the Food Network. Everything she posts is relevant and suitable for Twitter.
Her professional account on LinkedIn is simple and to the point. She describes that she is a USC student along with her different internships for NBC Sports, Dash Radio and Spotify. On USC Annenberg Media, you are able to see Sophie's experience in journalism with Annenberg's show The Buzz and the USC-related articles she has written.  
Overall, even though there is a significant amount of content on Sophie throughout all of these sites, none of it is alarming. Everything is well presented, classy and fun. I think that it is great that she does have a pseudonym on Facebook, so that she can keep her life a bit more private.